Dr. Peter Lennox
1000-777 West Broadway
Vancouver, BC V5Z 4J7
Phone: (604) 876-6552
Monday–Friday: 8 a.m.–5 p.m.
(Phone hours from 9 a.m.–4 p.m.)

Breast Augmentation in Vancouver
Every woman has an image of her ideal body; breast size often plays an important role in that image. Whether you're looking to enhance your body proportions, balance breast size, or restore fullness after pregnancy, breast augmentation with implants ( a "boob job") in Vancouver by Dr. Peter Lennox can help you achieve the beautiful curves you've always desired. Breast augmentation is one of the most popular procedures with his patients from West Vancouver, Port Moody, and other nearby areas.
Breast Augmentation

Before & After Photos
WARNING:
This feature contains nudity. Please click OK to confirm you are at least 18 years of age and are not offended by such material.
What Is Breast Augmentation?
Breast augmentation adds volume and fullness to the breasts using breast implants. Some women chose the surgery to balance breasts that are different sizes. Others opt for the procedure to regain the volume lost after breastfeeding or major weight loss or to add fullness to naturally small breasts. The procedure offers many options, from the type of fill material in the implant to the size, shape, and placement of the implant. Dr. Lennox works with each patient to make these decisions and best achieve the patient's goals.
Who Is a Good Candidate for Breast Augmentation?
Breast augmentation is one of Canada's most popular cosmetic surgery procedures. Women who are at least 18 years old and who have realistic goals for their results are good breast augmentation candidates. Besides desiring larger breasts, it's also important for prospective patients to be in generally good health and non-smokers.
Dr. Lennox discusses your medical history with you during your consultation to ensure that breast augmentation is a good match for you. With experience using all the implants currently available in Canada, Dr. Lennox will help you choose the breast implants best suited to your desired outcome, unique anatomy, and lifestyle. He offers the latest options approved by Health Canada with saline or silicone filling in a variety of shapes, profiles, and sizes. Dr. Lennox will explain how the procedure is performed, and review options for incision and implant placement.
How Much Does Breast Augmentation Cost in Vancouver, BC?
The cost for most breast augmentation (boob job) procedures here in Vancouver falls somewhere between $9,000 and $12,000. Your actual cost depends on the details of your procedure, including the type of implants you choose. As part of your consultation, one of Dr. Lennox's staff members provides you a written quote that reflects the precise specifications of your particular surgery. We offer financing options to ensure the procedure is within reach for all qualified patients.
Can I Combine Other Procedures With Breast Augmentation?
Breast augmentation is very popular, and many women choose to have additional procedures performed at the same time for even more dramatic results. When breast surgery is combined with a tummy tuck, the procedure is commonly referred to as a mommy makeover. For women who want to improve fullness as well as the position and shape of their breasts, adding a breast lift is an excellent option.
Do I Need Breast Augmentation or a Breast Lift?
There is a fairly common misconception that getting implants not only increases the size of the breasts but also gives them a lifted appearance. Breast augmentation surgery adds volume to the breasts, but it does not lift them into a more youthful, higher position or alleviate sagging. That requires a breast lift, which involves surgical techniques designed to elevate the breasts and nipples. Dr. Lennox can help you determine which procedure would best serve you. He frequently combines these procedures for women who want more volume and a lifted look.
How Do I Know What Size Breast Implants to Get?
Dr. Lennox offers breast implants in a range of sizes, and the right one for you depends on several factors that he discusses during your consultation. A good starting point when considering breast augmentation is to find before-and-after photos of patients whose results are similar to your own goals. Dr. Lennox can make a size recommendation based on:
Your body's frame
How much existing breast tissue you have
Your personal preferences
Other physical characteristics
Dr. Lennox's staff helps make the decision easier with sizers, a surgical bra that allows you to visualize different implant sizes to ensure you get the look you want. You can even take the sizers home to get opinions from your friends and family. In addition, Dr. Lennox has one of the only VECTRA® 3-D imaging systems in Western Canada. For many patients, a 3-D simulation of possible results with different implants can be done. Women have a wide range of preferences when it comes to breast size, but most desire natural-looking breasts that complement their overall figure.
Which Implant Is Better, Saline or Silicone?
The choice between saline and silicone breast implants basically comes down to personal preference. All breast implants have an elastic outer shell made of silicone and can have saline or silicone filling. Here are some advantages of each type:
Silicone implants are available for breast augmentation patients who are at least 22 years old. Options for silicone implants include cohesive silicone gel and highly cohesive silicone gel (gummy bears). Dr. Lennox was one of the first physicians in Canada to begin using the new generation of silicone gel implants. Silicone implants are popular because many women believe they have a more natural look and feel than saline.
Saline implants are filled with sterile saltwater after they are placed within the breast, so they require smaller incisions than silicone implants. The volume can be adjusted after placement. These implants generally cost less than silicone implants.
Dr. Lennox will explain the benefits each type of implant can provide for you to help you feel confident about your choice.
How Do You Determine Breast Implant Profile?
An implant's profile refers to how the augmentation results look from the side, or how far the implants project from your chest. It's another way to customize your results, and consulting with an experienced breast augmentation specialist such as Dr. Lennox can help you make a decision that will look the best for you. Implants at our practice are available in a variety of profiles, including:
Low profile: These implants are ideal for patients who are looking for a wider implant with subtle projection and cleavage.
Moderate profile: An excellent choice for women with slightly narrower frames, these implants offer a natural-looking projection from the chest.
Moderate plus profile: Many women choose moderate plus profile implants because they provide greater volume and cleavage than moderate profile implants while still looking natural.
High profile: Women with narrower chest walls who want a dramatic increase in volume and cleavage often prefer high profile implants.
Before & After High-Profile Implants
Before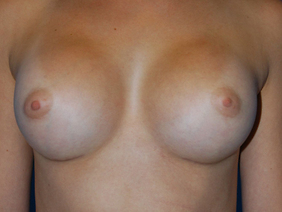 After
This 25-year-old woman wanted a full look and selected smooth, high-profile silicone implants inserted under the pectoral muscles. Read More
Is It Better to Get Breast Implants Over or Under the Muscle?
Breast implants can be placed directly beneath the breast tissue, called subglandular placement, or beneath the chest muscle, called submuscular placement. Advantages of each option include:
Under the muscle generally provides a more natural appearance, reduces the risk that you will experience tightening around the implant after surgery (capsular contracture), and creates less interference with mammograms.
Under the breast tissue allows for an easier recovery because there is no incision involving the chest muscle.
Which Incision Is Best for Breast Augmentation?
The fill material and size of your implants as well as your body type affect which of the following options is best for you:
Periareolar incision: along the bottom of the areola (the pigmented skin around the nipple)
Inframammary incision: just below the breast where it meets the chest wall
Transaxillary incision: in a natural crease of the armpit
Regardless, Dr. Lennox's goal is to make scars as subtle as possible.
Breast Implants vs. Breast Augmentation With Fat Transfer
Patients who want a natural alternative to breast implants and a modest increase in breast volume (about 1 bra cup size) can consider breast augmentation with fat transfer, also called natural breast augmentation. Dr. Lennox harvests fat from areas it's not wanted, like the thighs and belly, then purifies the fat and carefully injects it into the breasts. He also uses fat transfer to enhance breasts with implants by adding fullness to specific areas, such as the upper breasts or cleavage.
How Is Breast Augmentation Performed?
When performed as a solitary surgery, breast augmentation is a relatively brief, straightforward outpatient procedure. During your surgery, you will be under general anaesthesia, which means you will be fully unconscious under the care of an anaesthesiologist. Following the guidelines you reviewed prior to your surgery, Dr. Lennox makes the initial incisions either around your areola, along the inframammary fold, or in your armpit crease. He then creates a pocket in your breast tissue to house the implant. Once he has placed the implants and evaluated them for symmetry, he closes the incisions with sutures.
A nurse then moves you to the recovery area to allow you to comfortably wake up from anesthesia. You'll be able to go home in the care of an adult friend or family member after the anesthesia has worn off.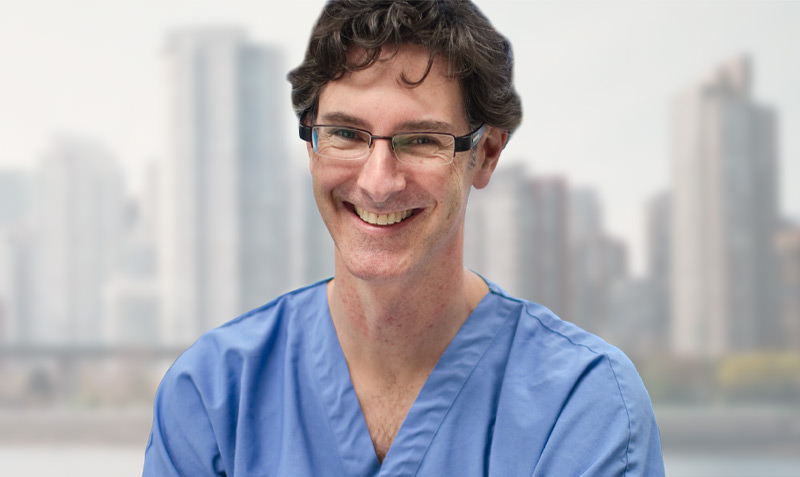 Meet Dr. Lennox
Engaging, well-educated, and extensively trained, Royal College-certified plastic surgeon Dr. Peter Lennox has earned the trust of his peers, his patients, and his students.
Meet Dr. Lennox
How Long Does It Take To Recover From Breast Augmentation?
Initially expect to feel some discomfort, but this is easily managed with pain medication and subsides within a few days. About a week after surgery, you'll return to Dr. Lennox's office for reassessment. As with any surgery, your body will need time to heal but following your aftercare instructions closely is the key to a good recovery.
Recovery Timeline
While patient experiences vary, expect to progress through the following general recovery milestones along this timeline:
Safe to shower: 48 hours after surgery
Discomfort peaks: 3 to 5 days
Sutures removed: 5 to 7 days
Return to work, school, and nonstrenuous activities: 2 weeks
Bruising and swelling fade: 3 to 4 weeks
Implants settle (drop & fluff): 6 to 12 weeks
Resume strenuous exercise: 6 weeks
Achieve final results: 6 to 12 weeks
Scars fade: 6 to 12+ months
Tips To Help Recovery
Before Surgery
Stop smoking several weeks before your surgery date.
Arrange for an adult to drive you home after surgery and help you for the first day or two.
Fill your prescriptions so you don't have to leave home to get your medications following your procedure.
After Surgery
Get plenty of rest and sleep for the first couple of days to help speed recovery.
Avoid underwire bras for at least 6 weeks following surgery; instead, wear a surgical bra that offers ample support during this time.
Keep the incisions dry.
Sleep on your back to avoid putting pressure on your breasts for the first week or 2.
Avoid drinking and smoking as directed.
After the dressings are removed, perform implant massage as directed.
What Is Breast Augmentation Revision?
Breast augmentation revision is a surgery to remove your existing breast implants and replace them with new implants. Women may choose revision surgery for any number of reasons, including:
Their breasts have changed shape since their original breast augmentation.
They are experiencing issues with their breast implants or complications such as capsular contracture.
They want to change their implant size, style, or fill material.
Breast augmentation revision is a more complex surgery than an initial breast augmentation procedure, so it's essential to choose a board-certified plastic surgeon with experience in revision surgeries.
Frequently Asked Breast Augmentation Questions
Is breast augmentation surgery always performed using a general anaesthetic?
Dr. Lennox works with a board-certified anaesthesiologist, who assesses all of our patients. Together, the anaesthesiologist and the patient make a decision that is the best in terms of safety, patient concerns, and the procedure details. Dr. Lennox performs breast surgery using a general anesthetic in the majority of operations.
Is breast augmentation surgery considered dangerous?
Although every surgical procedure carries some risk, breast augmentation is generally considered very safe when performed for suitable candidates by a Royal College-certified plastic surgeon in an accredited facility. Breast augmentation patients can help limit their risk before surgery by maintaining a BMI of less than 30, stopping smoking at least 2 weeks before surgery, and following all of their surgeon's instructions.
How long before I'll see the final results of breast augmentation?
Even though you'll notice immediate changes to the size of your breasts, the final results appear gradually over time as swelling subsides and the breast implants settle into place. Incision lines continue to fade for up to a year.
How long will my breast augmentation results last?
Generally speaking, the results of breast augmentation can last for many years. There's no official life span for breast implants. Revisionary surgery is sometimes a requirement, as breast implants do not last forever. Over time, both silicone and saline implants can weaken and lose their shape. This, along with the natural aging process of the breasts, can lead to changes in the shape of your breasts. However, this process typically takes many years.
What should I look for in breast augmentation before-and-after photos?
Once you've made sure a surgeon is qualified and experienced in performing breast augmentation, there are a variety of questions to consider when looking at his/her patient photos including:
Do you like the "after" photos of patients whose "before" breasts were similar to your own?
Are there patients with a variety of body types who have beautiful results? This shows the surgeon personalizes the procedure to each patient's unique anatomy.
Do the patients' breasts look more symmetrical after surgery, even if they were out of balance before? While the human body is not perfectly symmetrical, results should be similar in shape and size.
When were the "after" photos taken? It can take several months for implants to "settle" and scars to fade.
Will breast implants affect my mammogram results?
There is no evidence that implants interfere with a clinical examination of the breast. Most radiologists are confident that they can assess the breast accurately with an implant in the subpectoral plane. Experienced radiology technicians know how to take images of the breasts at different angles for patients with breast implants. Be sure to tell your technician that you have implants so he or she can take that into account during your mammogram.
Should I wait to get breast implants if I plan to have children?
If you are sure you want to have children in the next year or so, then it is reasonable to wait to have surgery. Your breasts will change with pregnancy and breastfeeding, so waiting will help you avoid having to undergo implant revision surgery to address any cosmetic issues that may arise. If you believe you might have children down the road but aren't sure when then getting breast augmentation now might be best. This timeline is different for each woman, and Dr. Lennox is happy to discuss your plans and find a solution that works for you.
Will I be able to breastfeed with implants?
Yes, many women can breastfeed even if they have breast implants. Dr. Lennox always asks breast augmentation patients if they are planning to have children.
CAN I HAVE Breast Augmentation SURGERY IF I'M OVERWEIGHT?
Patient safety is our priority at Lennox Cosmetic Surgery. Because of that, Dr. Lennox requires women to have a body mass index (BMI) below 30 before they can undergo elective breast surgery. According to Canadian guidelines from Health Canada, anyone with a BMI of 30 or higher is considered obese and has a high risk of suffering complications following plastic surgery. A BMI between 25 and 29 is considered overweight.
To take the next step, request a consultation with Dr. Lennox, a Royal College-certified plastic surgeon specializing in cosmetic surgery for Vancouver patients. Or, call our office at (604) 876-6552.
Back to Top