Dr. Peter Lennox
1000-777 West Broadway
Vancouver, BC V5Z 4J7
Phone: (604) 876-6552
Monday–Friday: 8 a.m.–5 p.m.
(Phone hours from 9 a.m.–4 p.m.)

Breast Augmentation Revision in Vancouver
Breast augmentation patients are almost always very happy with their results and enjoy them for many years. However, sometimes a patient needs a secondary procedure, either to correct a problem or simply to replace implants. Dr. Peter Lennox is a Royal College-certified plastic surgeon with a special interest in complex breast surgeries. He performs breast augmentation revision, also called breast implant revision, in Vancouver for women from West Vancouver and other nearby areas who want to replace their breast implants or repair complications from breast augmentation surgery performed elsewhere.
If you want to replace or remove your breast implants, visit Dr. Lennox to explore your options for enhancing not only your appearance but also your self-image. To take the next step, request a consultation online with Dr. Lennox, or call our office at (604) 876-6552 to schedule your appointment.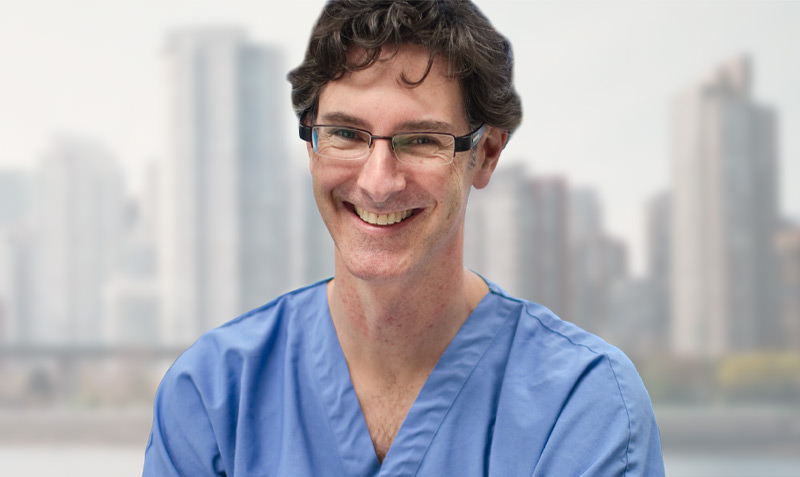 Meet Dr. Lennox
Engaging, well-educated, and extensively trained, Royal College-certified plastic surgeon Dr. Peter Lennox has earned the trust of his peers, his patients, and his students.
Meet Dr. Lennox
Understanding Breast Augmentation Revision
Revision procedures, or secondary procedures, are often more complex than initial surgeries. There is often scar tissue to contend with, and sometimes the pocket within the breast needs to be repaired, reconstructed, or both. Patients can rely on Dr. Lennox's vast experience with these complicated surgeries. He is known as an authority on the complex facets of plastic surgery and breast procedures in particular.
Am I a Candidate for Breast Augmentation Revision?
Breast augmentation revision is not as common a procedure as primary breast augmentation, but occasionally it is necessary or desirable. You may be a good candidate for a revisionary procedure if you're in generally good health and are dissatisfied with the appearance of your breast implants.
Perhaps you've had a change of heart regarding the size of your implants, or you're dealing with a complication such as capsular contracture or implant malposition. Breast augmentation revision may be able to correct each of these concerns.
Why Choose Dr. Lennox for Revision Breast Augmentation Surgery?
Patients routinely choose Dr. Lennox for both primary breast augmentation and breast augmentation revision because he's exceptionally skilled at addressing the nuances of the breasts. Dr. Lennox understands that breast augmentation revision is a completely unique procedure, requiring special attention to detail and close consideration of the breast tissue, which often has scar tissue and other features not present in primary augmentation, and often requires the use of advanced techniques to obtain your goals.
How Much Does Breast Augmentation Revision Surgery Cost in Vancouver?
Breast revision surgery is a complex procedure tailored to the unique needs of each individual, so the price of breast revision surgery is determined on a case-by-case basis. After your one-on-one consultation with Dr. Lennox, we will provide you with a cost estimate based on your specific procedure details.
Reasons for Revision Breast Augmentation
Women seek breast augmentation revision for a number of reasons. Sometimes they want to revise their results shortly after their original, primary procedure, and sometimes it is many years later.
Undesirable Breast Appearance
Sometimes women are unhappy with the appearance of their breasts after breast augmentation. Dr. Lennox helps women who have undergone surgery elsewhere and experience any of the following concerns:
Implant malposition – too high, too low, too close together, or too far apart
Asymmetry – when breast size is uneven or the nipples are unevenly positioned
Visible rippling or wrinkling
Implants that the patient thinks are too large or too small
Ready for a New Look
Many patients who get revision surgery have lived happily with their implants for years and are simply ready for a change. New styles, shapes, and materials of implants come onto the market as time passes, and sometimes patients want to take advantage of those new options. Dr. Lennox stays up to date on the latest innovations and offers his revision patients a wide range of implant choices.
Capsular Contracture
The most common complication that arises from breast augmentation is capsular contracture. This occurs when the scar tissue that forms naturally around a breast implant tightens and constricts the implant to an uncomfortable extent. Capsular contracture can cause the breast to harden, creating an unnatural look and feel. Revision surgery can address this complication by removing the hardened scar tissue and repositioning implants.
Implant Rupture
Although rare, implants rupturing or deflating does occur in a very small percentage of patients, usually after they have had their implants for many years. If a saline implant ruptures, it will visibly deflate within a matter of hours as the saltwater is absorbed by the body. A rupture of a silicone implant may go unnoticed for some time until it is revealed by mammography or other types of imaging, but it too should be replaced in a revision surgery.
Your Breast Augmentation Revision Procedure
Breast augmentation revision surgery varies depending on the reason for the secondary procedure. It's important to choose a surgeon who specializes in breast revision surgery such as Dr. Lennox because the procedures generally require a level of expertise that not all plastic surgeons have. Dr. Lennox is familiar with all of the most common motivations for revisionary surgery, including:
Changing the implant size or style: The same incision is often used for patients who want to change the size or style of their implants. The incision may need to be made larger if the patient wants to switch from saline to silicone, a common choice thanks to the rise in popularity of cohesive silicone implants. If the new implants are bigger, the surgery requires enlarging the pocket where Dr. Lennox inserts the implants. The pocket may be sutured to reduce its size in cases where the patient wants smaller implants.
Capsular contracture: Dr. Lennox typically uses the same incision used in the primary breast augmentation procedure to remove the hardened capsule and implant. If desired, new implants are inserted through those incisions.
Implant rippling: Repositioning an implant or implants with visible rippling may be accomplished using the same incision. In some cases, however, the solution may include replacing the implants and creating a new breast pocket to help prevent rippling from occurring again.
Implant malposition: When the original pockets created to hold breast implants are either too far apart or too close together, the results aren't appealing aesthetically. Dr. Lennox may use the same incisions and then reconstruct the pockets by repositioning breast tissue.
Implant removal: It's not uncommon for women to want to remove their implants without replacing them as they grow older. In these cases, the skin is usually stretched from the implants, so Dr. Lennox may recommend a breast lift at the same time the implants are removed. The same incision used to insert implants is used when removing them, but a breast lift would require additional incisions.
Raising nipple and areola: Additional incisions are needed to elevate the position of the nipple and areola following breast augmentation surgery. The specific nature of the surgery depends on the amount of repositioning required to achieve the desired aesthetic results.
Breast Augmentation Revision Recovery & Results
Dr. Lennox usually performs breast augmentation revision on an outpatient basis, meaning patients will need someone to drive them home after surgery. Patients will feel some discomfort during recovery, similar to after their primary procedures. Pain medications can help. Patients return to our office a week after surgery for a follow-up check. They can begin walking the first day after surgery to promote healing, and most can resume most normal activities in about 7 to 10 days. Following aftercare instructions closely is crucial for a good recovery and beautiful results.
Swelling and discoloration will fade over a few weeks or months to reveal patients' breast augmentation revision results. Incisions can often be in the same place as the primary surgery, and scars will fade over time. Patients can begin enjoying their improved appearance soon after surgery and expect the results to last years.
Frequently Asked Breast Augmentation Revision Questions
How soon after breast augmentation can you get a revision?
Most patients need to wait at least 6 months after primary breast augmentation to have revision surgery so the breasts have time to heal and settle into their new shape. You are welcome to see Dr. Lennox earlier for a consultation to talk about your options.
Can I undergo other procedures at the same time as my revision breast surgery?
Yes. Sometimes a breast augmentation revision procedure requires repositioning the breasts. In this case, Dr. Lennox performs a breast lift in conjunction with the implant revision. He can also adjust the size of the areolas during this time. Body contouring options such as tummy tuck surgery can also be combined with breast surgery.
How long will the results of my breast augmentation revision last?
The ultimate results of your breast augmentation revision can last for more than a decade, depending on how well you adhere to aftercare instructions. Other factors, such as your own physiology, the type of implants you choose, and the technique that Dr. Lennox uses can affect the longevity of your results.
How is recuperation after revision different from recuperation after primary breast augmentation?
Recuperation after secondary surgery is comparable to the experience following primary breast augmentation, with slight differences. Some patients find that it takes them a bit longer to fully heal the second time around. This is because secondary breast augmentation is a more technically challenging procedure than primary augmentation. Patients may find that they feel a bit more sore after this procedure, which is normal. By following Dr. Lennox's aftercare instructions and not rushing into physical activity before you feel ready, you can ensure your recuperation is as smooth as possible.
Can I Have Revision Breast Surgery If I'm Overweight?
Our priority at Lennox Cosmetic Surgery is safety for our Vancouver patients. Because of that, Dr. Lennox requires women to have a body mass index (BMI) below 30 before they can undergo elective breast surgery. According to Canadian guidelines from Health Canada, anyone with a BMI of 30 or higher is considered obese and has a high risk of suffering complications following plastic surgery. A BMI between 25 and 29 is considered overweight.
Back to Top