Dr. Peter Lennox
1000-777 West Broadway
Vancouver, BC V5Z 4J7
Phone: (604) 876-6552
Monday–Friday: 8 a.m.–5 p.m.
(Phone hours from 9 a.m.–4 p.m.)

Mommy Makeover
With plastic surgery more efficient and innovative than it's ever been, there's a solution for mothers from West Vancouver and surrounding areas who wish to reverse the cosmetic effects of pregnancy and childbirth on their bodies in one fell swoop. A mommy makeover by Vancouver plastic surgeon Dr. Peter Lennox can contour and restore the areas most affected by pregnancy, breastfeeding, or even significant weight loss, all in a single operation. Completely customizable based on your specific needs, a mommy makeover can help you reclaim your body and your confidence.
To take the next step, request a consultation with Dr. Lennox, a Royal College-certified plastic surgeon with many years of experience. Or, call our office at (604) 876-6552 to schedule your appointment.
Mommy Makeover

Before & After Photos
WARNING:
This feature contains nudity. Please click OK to confirm you are at least 18 years of age and are not offended by such material.
A Custom Combination
At Dr. Lennox's Vancouver practice, mommy makeover surgery is custom-designed to suit your exact needs and specifications. Most mommy makeovers incorporate some type of breast enhancement with a tummy tuck, but the choice is truly up to you. Some women may choose to add facial rejuvenation treatments to their surgeries.
During your consultation, Dr. Lennox has a candid conversation with you about your goals and describes your surgical options. He helps you understand the results you can anticipate from each component, with the goal of treating all your needs in one transformative procedure. Read on to learn about some of the most common mommy makeover components.
Your Breasts After Baby
During and after pregnancy, a woman's breasts undergo many changes. Typically, they swell and enlarge as they begin to produce milk. The areolas may also get larger and darken. Once the breasts stop producing milk, they tend to shrink, but they seldom return to their "pre-baby" appearance. Instead, excess skin can cause them to sag or take on a "deflated" appearance. After pregnancy, some women's breasts may even become smaller than they were prior to pregnancy.
These changes make many mommy makeover patients good candidates for breast augmentation or breast lift surgery — or both.
During your consultation, Dr. Lennox examines your breasts to determine their degree of ptosis, or sagging, as well as their size and shape in relation to the rest of your body. This information helps him guide you to the ideal outcome. Whether you choose to augment your breasts with implants or simply lift and reshape them to sit higher on your chest, breast enhancement is nearly always a key element of mommy makeover surgery.
Your Body After Baby
Throughout pregnancy, a woman's body creates extra skin around her abdomen to accommodate her expanding belly. After childbirth, that skin may not have the elasticity to "bounce back" into place. In many cases, the underlying abdominal muscles are also stretched and separated after pregnancy, which causes a bulge that is visible even if the skin does bounce back. This residual tissue is especially distressing because it doesn't respond to diet or exercise.
The only way to truly remove this skin and regain a flat abdominal contour after pregnancy is through tummy tuck surgery, a key component of a mommy makeover. This procedure removes skin and some residual fat and tightens and strengthens abdominal muscles for a sleek contour. A tummy tuck can also sometimes remove pesky stretch marks and part or all of some C-section scars.
Aside from the abdomen, other areas of a mother's body also tend to have stubborn fat that has accumulated, particularly around the hips and thighs but also commonly on the limbs, back, and neck. To remove fat from these areas and sculpt sleek contours, Dr. Lennox uses liposuction, another common mommy makeover component. Liposuction is a versatile treatment that Dr. Lennox frequently uses in combination procedures because it does not add to the recovery time, and it helps him restore youthful, beautiful contours all around the body.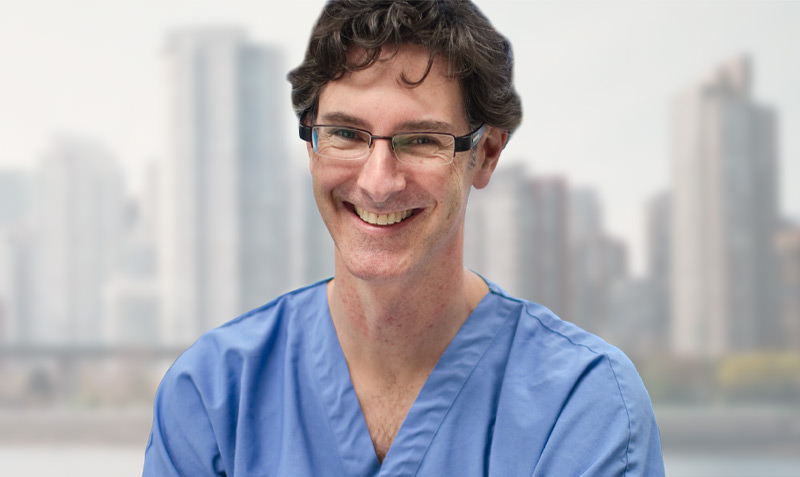 Meet Dr. Lennox
Engaging, well-educated, and extensively trained, Royal College-certified plastic surgeon Dr. Peter Lennox has earned the trust of his peers, his patients, and his students.
Meet Dr. Lennox
Your Mommy Makeover Procedure
Dr. Lennox performs your mommy makeover while you are under general anesthesia. He plans all mommy makeover procedures so that they address each of your goals in a safe, efficient way. Because this is a combination surgery, it takes longer than the individual components alone. Dr. Lennox's top priority is your safety and well-being, so he never plans a procedure that would take too long under anesthesia. That said, most mommy makeovers with breast and body enhancement are easily completed within 4 to 6 hours. At your preoperative appointments, Dr. Lennox reviews his surgical plan with you depending on the components you choose.
The Benefits of Combining Procedures
A single recuperation period lets you get back to your life faster
Often less expensive than undergoing multiple surgeries because you pay anesthesia and operating facility fees only once
The emotional benefit of an overall transformation that addresses all your goals
If you undergo breast augmentation, Dr. Lennox typically makes an incision along the bottom fold of the breast, around the areola, or in the armpit. He makes a pocket within the breast and places the implant before closing the incision with sutures. For a breast lift, Dr. Lennox makes incisions that allow him to remove extra skin and reshape the areola. If you are getting implants, too, he inserts them through the same incisions.
For a tummy tuck, Dr. Lennox makes a horizontal incision that extends from hip to hip as low as possible to ensure that the resulting scar can be concealed beneath clothing and swimwear. He removes residual fat using liposuction, tightens abdominal muscles, and removes any excess skin. He may also reshape your navel before closing the incision and revealing a taut, smooth abdominal contour. He also performs liposuction elsewhere on the body as needed, using tiny incisions to insert a thin tube called a cannula that suctions away fat.
Mommy makeover surgery is typically an outpatient procedure, and you'll need a friend or family member to accompany you home.
How Long Does It Take To Recover From a Mommy Makeover?
A typical mommy makeover patient requires between 1 and 2 weeks of rest at home. The details of your recuperation depend on the specifics of your surgery. Dr. Lennox will review your anticipated recovery at length with you prior to your procedure.
What Is Recovery Like After a Mommy Makeover?
Dr. Lennox encourages his patients to use their time after surgery to rest, relax, and allow their bodies to heal. It's important to have a partner, friend, or family member willing to help with childcare, chores, and other daily activities for several days. You'll be scheduled for several follow-up appointments, during which Dr. Lennox may remove your bandages, sutures, and drains, as well as clear you to resume certain activities.
After surgery, light walking is advisable in order to encourage healing and prevent blood clots. However, you should avoid heavy lifting and any activity that requires you to bend, stoop, or lift your arms over your head. You should also avoid driving until you are no longer using prescribed pain medicine.
Mommy Makeover Results
As the weeks progress after surgery, you'll notice a significant decrease in swelling and bruising, and your final results will become more apparent. Your clothes may fit better, and you'll reap the intangible benefit of increased confidence and self-esteem. The results of your mommy makeover can last for many years, provided you avoid significant weight fluctuations. If you plan to have more children after your procedure, be sure to talk about it with Dr. Lennox. He can offer options to help you maintain your improved look for as long as possible.
Frequently Asked Mommy Makeover Questions
How much does a mommy makeover cost?
The cost of a mommy makeover can vary significantly based on the specific procedures you choose. According to aesthetic medicine resource RealSelf, most mommy makeover procedures performed here in Vancouver fall within the range of $12,000 to $19,000, with an average cost of just under $16,000. Of course, during your consultation, we provide you with a specific quote.
Can you finance a mommy makeover?
Yes! Financing is an option for qualified patients. You can use the funds to pay for a portion or all of the cost of your surgery.
What are my options for breast enhancement?
When it comes to mommy makeover procedures, you're not limited to breast augmentation. Each woman's breasts change differently as a result of pregnancy and breastfeeding, and some women are satisfied with the size of their breasts and simply don't feel the need for augmentation. For patients like this, a breast lift may be more appropriate. Depending on candidacy, breast reduction can also be performed as part of a mommy makeover.
Can I get pregnant after a mommy makeover?
While you may physically be able to become pregnant after your surgery, Dr. Lennox typically recommends that patients finish building their families before surgery. This is because pregnancy can alter or even undo the results of your surgery, potentially necessitating a revisionary procedure in order to maintain your look.
Can I Have Plastic Surgery If I'm Overweight?
Patient safety is our priority at Lennox Cosmetic Surgery. Because of that, Dr. Lennox requires women and men to have a body mass index (BMI) below 30 before they can undergo elective cosmetic surgery. According to Canadian guidelines from Health Canada, anyone with a BMI of 30 or higher is considered obese and has a high risk of suffering complications following plastic surgery. A BMI between 25 and 29 is considered overweight.
Back to Top