Dr. Peter Lennox
1000-777 West Broadway
Vancouver, BC V5Z 4J7
Phone: (604) 876-6552
Monday–Friday: 8 a.m.–5 p.m.
(Phone hours from 9 a.m.–4 p.m.)

Breast Lift
Women work hard to fight the signs of aging, but many factors including gravity, skin tone, pregnancy, breastfeeding, and weight changes can take a toll on the breasts. While sagging breasts can undermine everything else a woman does to look and feel young, breast lift surgery with Dr. Peter Lennox can help women from West Vancouver, Port Moody, and throughout the Vancouver, BC, area recapture their firmer, uplifted shape.
Breast Lift

Before & After Photos
WARNING:
This feature contains nudity. Please click OK to confirm you are at least 18 years of age and are not offended by such material.
Reasons for a Breast Lift
A breast lift improves the position and shape of your breasts by removing excess skin and tissue while repositioning the nipple, areola, and breast higher on the chest. It is an effective procedure for women whose breasts have:
Lost elasticity and firmness
Flattened or stretched
Sagged causing droopy nipples or enlarged areolas
How Much Does a Breast Lift Cost in Vancouver?
The cost of breast lift surgery varies between patients. Factors such as the amount of correction necessary and whether the procedure is combined with other surgeries affect the total costs. Dr. Lennox and our team can provide you with a detailed quote during a consultation. He aims to keep his prices competitive with those of other Vancouver plastic surgeons, and he offers financing to help patients fit the procedure into their budgets.
Understanding Breast Lift Surgery
Dr. Lennox is skilled in several techniques for his breast lift patients. He will discuss which technique is best for you based on the extent of the sagging. Often, a breast lift requires 3 incisions (see illustration):
Around the areola
From the areola down to the crease under the breast
Occasionally, a horizontal incision along the fold below the breast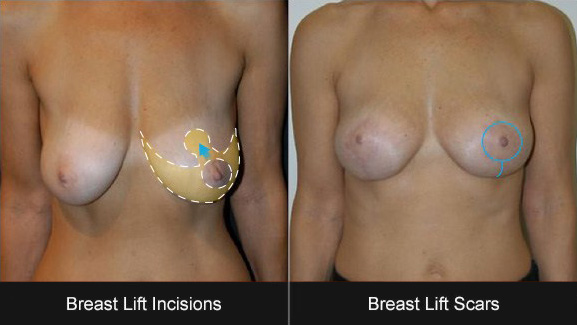 Breast Lift Scarring
Although there is always scarring with an incision, Dr. Lennox is adept at strategically placing the incisions so they are easily hidden under clothing. With proper care after surgery, scars will fade and lighten over time.
Breast Lift vs. Breast Augmentation
It's helpful to understand the differing goals of breast lift and breast augmentation surgery. A breast lift elevates the breasts by removing excess sagging skin and tightening the remaining tissue. It usually does not make breasts larger or rounder in shape; in fact, in some cases, a breast lift can make the breasts appear slightly smaller. If you want to increase the volume of your breasts in addition to lifting them, then you should combine a breast lift with implants. Dr. Lennox can evaluate your breasts and recommend a plan that addresses all your goals.
Complementary Procedures
Breast lifts are a growing part of Dr. Lennox's practice, and many women often schedule complementary procedures at the same time including a breast augmentation to add fullness to the breasts and a tummy tuck (abdominoplasty) to flatten the abdomen. When performed together, the procedures are commonly referred to as a "mommy makeover."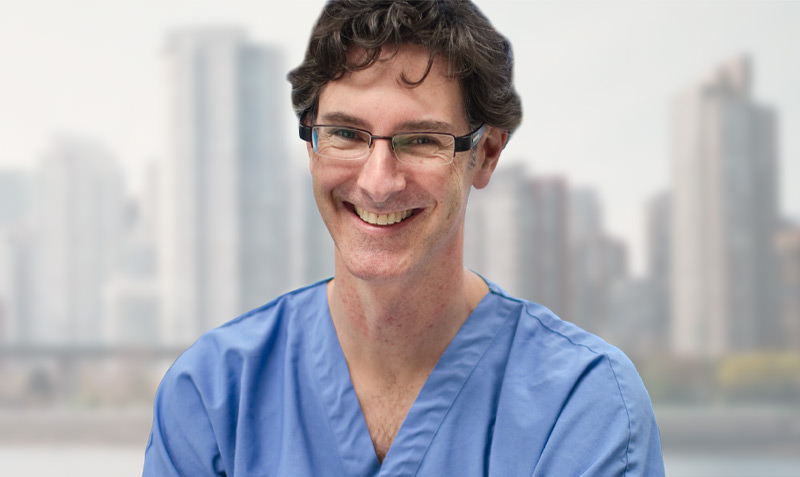 Meet Dr. Lennox
Engaging, well-educated, and extensively trained, Royal College-certified plastic surgeon Dr. Peter Lennox has earned the trust of his peers, his patients, and his students.
Meet Dr. Lennox
Breast Lift Recovery & Results
Women typically recover from a breast lift within a matter of days and are up and moving the day after surgery. You'll wear a soft, surgical bra for the first few days followed by a support bra for several weeks. It's common to have some bruising along the incisions, with bruises diminishing in about 7 to 10 days.
Dr. Lennox will give you thorough instructions for returning to work as well as resuming your workouts and other day-to-day activities. Every woman's results are different, but a breast lift is a relatively pain-free way to achieve the uplifted, shapely breasts of your youth.
Frequently Asked Breast Lift Questions
Am I a good candidate for a breast lift?
Many women who are in generally good health and would like to alleviate breast sagging are candidates for a breast lift. One easy way to determine whether you'd benefit is to stand in front of a mirror and see whether your nipples either point down or are below the crease where your breasts connect to your chest. You also may be a good candidate if:
You are satisfied with the size of your breasts but want to restore a youthful perkiness
You have breasts that are asymmetrical
Your breasts have a deflated appearance
What is a "lollipop" lift?
Dr. Lennox performs most breast lift procedures using an incision around the areola and then vertically down to the lower part of the breast. This is called a "lollipop" lift because the 2 incisions resemble a lollipop shape. In some cases, a third incision running horizontally just above the inframammary crease is necessary. That method is called an "anchor" or "inverted T" incision.
What is a "doughnut" breast lift?
The doughnut breast lift, also called a Benelli lift, is a technique in which a circular incision is made around the areola. Excess breast tissue is removed, lifting the breast, and the incision is sutured much like a drawstring. Although patients often ask about it because it limits scarring to the nipple area, the doughnut lift is appropriate only for patients with smaller breasts and minor sagging.
Do breast lift scars go away?
Unfortunately, scars are an inevitable tradeoff in any plastic surgery. Experienced surgeons are trained to make incisions so that the resulting scars are as inconspicuous as possible. Regardless of which incisions Dr. Lennox uses, he is careful to keep them very fine so that they quickly heal and fade until they are nearly invisible.
Is breastfeeding possible after a breast lift?
It is possible to breastfeed after a breast lift if your nipples remain attached to the underlying breast tissue. This is possible for many patients, and Dr. Lennox can take your desire to breastfeed into account during surgical planning.
How many years does a breast lift last?
When the surgery is performed by a skilled physician such as Dr. Lennox, its results can last for many years. The procedure turns back the clock, but it doesn't stop it from ticking. Aging will continue to have an effect on the appearance of your breasts, but you shouldn't notice significant sagging for more than a decade. Fluctuating weight or pregnancy, however, may affect your results.
Can I have a breast lift if I'm overweight?
Patient safety is our priority at Lennox Cosmetic Surgery. Because of that, Dr. Lennox patients have a body mass index (BMI) below 30 before they can undergo elective breast lift surgery. According to Canadian guidelines from Health Canada, anyone with a BMI of 30 or higher is considered obese and has a high risk of suffering complications following plastic surgery. A BMI between 25 and 29 is considered overweight.
To learn more about rejuvenating your breast shape with breast lift surgery, request a consultation with Dr. Peter Lennox, a Royal College-certified plastic surgeon specializing in cosmetic surgery for Vancouver patients. Or, call our office at (604) 876-6552 to schedule your appointment.
Back to Top