Dr. Peter Lennox
1000-777 West Broadway
Vancouver, BC V5Z 4J7
Phone: (604) 876-6552
Monday–Friday: 8 a.m.–5 p.m.
(Phone hours from 9 a.m.–4 p.m.)

BOTOX COSMETIC®
Aging, sun exposure, genetics, and expressions are just a few of the unavoidable factors that contribute to facial lines and wrinkles. Luckily, in the fight against wrinkles, we have BOTOX COSMETIC®. Women and men from West Vancouver and other cities near Vancouver have been delighting in the results of this safe, non-surgical treatment at our medi spa.
To take the next step, request a consultation with Dr. Peter Lennox, a Royal College-certified plastic surgeon with many years of experience. Or, call our office at (604) 876-6552 to schedule your appointment.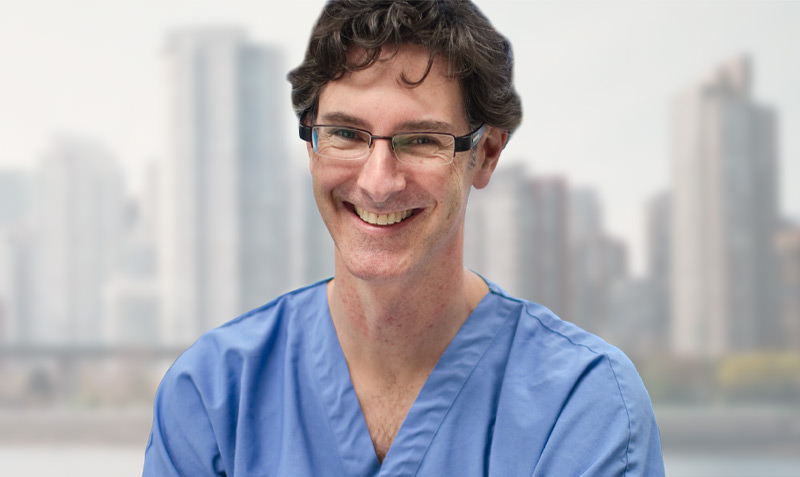 Meet Dr. Lennox
Engaging, well-educated, and extensively trained, Royal College-certified plastic surgeon Dr. Peter Lennox has earned the trust of his peers, his patients, and his students.
Meet Dr. Lennox
What Is BOTOX?
BOTOX, the cosmetic form of botulinum toxin type A, has been used therapeutically for nearly 20 years to treat a variety of medical conditions. Essentially, it is a protein that weakens the muscles that cause certain types of facial lines called dynamic wrinkles. It is a highly effective way to reduce vertical frown lines between the eyebrows, horizontal forehead creases, and other signs of aging.
In Vancouver, BOTOX has become an extremely popular procedure among people who want to recapture a more youthful, rested look without undergoing major surgery.
How Much Does BOTOX Cost in Vancouver?
BOTOX treatments are priced based on the number of units used. The number of units needed for an effective BOTOX treatment depends on the area being treated. For example, addressing wrinkles in a large area such as the forehead would likely require more units of BOTOX than a smaller area such as crow's feet at the corner of the eyes. We'll provide you with a cost estimate once we've discussed your goals with you and developed your personalized treatment plan.
BOTOX Treatment Areas
BOTOX is commonly used to reduce the appearance of lines and wrinkles in a variety of areas on the face, including:
Horizontal forehead lines
Crow's feet
Laugh lines (nasolabial folds)
Frown lines (glabellar lines)
Lip lines
Bunny lines (nasalis lines)
We also use BOTOX to enhance your appearance and achieve other cosmetic goals such as:
Lateral brow lift
Lip flip to reduce a gummy smile
"Apple dumpling" chin
Vertical neck bands
Neck and décolletage lines
Although BOTOX is most commonly thought of as a treatment for wrinkles and other cosmetic concerns, both Health Canada and the FDA have also approved BOTOX to treat health issues such as excessive sweating (hyperhidrosis) and migraines.
Is BOTOX Better Than Fillers?
BOTOX and dermal fillers like JUVÉDERM® work in different ways, so one is not better than the other. Fillers are better than BOTOX for restoring volume to the cheeks, smoothing away smile lines (nasolabial folds), sculpting the lips, and other improvements that add or restore fullness under the skin. BOTOX is better than fillers for correcting lines created by the contractions of facial muscles and keeping these lines away with repeated use. BOTOX injections are often performed together with filler injections to provide a more complete facial enhancement than either treatment can on its own.
How Does BOTOX Work?
BOTOX blocks the nerve impulses, temporarily paralyzing the muscles that cause wrinkles while giving the skin a smoother, more refreshed appearance. BOTOX is injected directly into the muscles responsible for wrinkles, relaxing these muscles without affecting your ability to show facial expressions.
Are BOTOX Injections Painful?
These quick injections are performed in the office with minimal pain and no downtime. No anesthesia is required, but topical anesthetics are available to numb the skin. The entire procedure takes about 10 to 20 minutes.
How Long Before You See the Results of BOTOX?
About 3 to 7 days after your injections, you'll be able to smile, frown, and look surprised without wrinkles. Because BOTOX simply relaxes the muscles that cause facial lines, the results are very natural-looking.
How Long Does BOTOX Last?
Most of our patients report that their BOTOX results last up to 4 months and can be maintained with periodic touchups.
Combining BOTOX With Other Treatments
Combining BOTOX with other treatments and procedures enables you to address different areas of concern during the same appointment or series of appointments. You can fight multiple signs of facial aging by pairing BOTOX with dermal fillers, for example, in a treatment called a liquid facelift or SoftLift™. BOTOX can also enhance the results of facial plastic surgery procedures such as eyelid surgery or a facelift.
Is BOTOX Right for Me?
Millions of women and men around the world have seen first-hand the benefits of BOTOX Cosmetic. Dr. Peter Lennox and his skin care nurse, Daniela Pinca, will discuss all of your skin care options to determine whether BOTOX is right for you. One of the reasons this treatment is so popular is that it is effective for a wide range of patients. It is also an exciting option for people who want to look more youthful without having facial surgery.
Frequently Asked BOTOX Questions
Are BOTOX injections safe?
BOTOX Cosmetic injections are considered safe when performed by a qualified health provider. In the early 2000s, Health Canada approved the use of the neurotoxin to treat expression lines between the brows and on the forehead, and millions of safe treatments have been performed since that time. Still, it's important that you ask your provider about the potential risks and how you can further ensure your safety.
What's the best age for BOTOX?
BOTOX gained popularity with people in their 40s, 50s, and 60s as an effective anti-aging treatment for dynamic wrinkles. It is also becoming a favourite treatment for those in their 20s and 30s to ward off the development of expression lines and wrinkles.
Can men get BOTOX?
Of course! Male skin ages, too, and many men find that reducing their expression lines helps them look younger and feel more confident in all areas of their lives. BOTOX injections are quick, easily accessible, and very effective, making them a popular option for men who are concerned about showing signs of aging. BOTOX has become such an effective tool for men who want to look more vibrant, that it's even earned the nickname "Brotox."
Will anyone be able to tell I've had BOTOX?
Our goal is always to help you look naturally refreshed and rejuvenated so you won't have to worry about facial muscles that look "frozen." Our skilled aesthetic nurse specialist, working in conjunction with Dr. Lennox, is an accomplished injector with many years of experience. This experience helps them to customize your dose and injection locations to fade wrinkles without making your results appear obvious.
Does BOTOX ruin your face?
No, BOTOX does not ruin your face. Its purpose is to enhance your appearance rather than detract from it. It's always helpful to keep in mind that BOTOX is a temporary treatment and the results fade over the course of a few months.
Back to Top